Sale!
Welme Period Pain Relief Device
Get instant relief from period cramps
Welme, clinically-tested and scientifically-proven period pain-relief device based on TENS therapy helps women of all age groups get relief from menstrual cramps, backache and abdominal pain. It is free from drugs, chemicals and side-effects.
Benefits of TENS Technology
Natural, drugs and chemical-free
Stimulates release of endorphins and controls pain signals
Reduces inflammation and retrains your nerves
Effective, rapid and safe pain-relief therapy
Free
shipping
COD
available

Clinically
Tested
Ideal for
gifting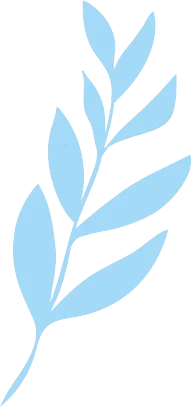 How it functions
Here is your guide to understand your Welme device better!
Welme device is based on TENS therapy, a drug-free and
scientifically-tested technology for pain relief.
It releases soothing electrical impulses through sticky electrode
patches
This impulses block pain signals and stimulate a release of endorphins
It relieves period pain and eases period days
Make sure the device is "off" when you are placing patches on your skin. Adjust the intensity to a level that feels comfortable and soothing.
How to use
Here is your guide to experience pain-free periods
Wear the Welme device on your waistband
Remove the set of electrode patches
Place it rightly on your back or other pain points
Turn "On" the device and set the intensity
Regulate the intensity with (+) or (-) signals
Get period pain-relief in minutes
After use, switch "Off" the Welme device, gently remove the patches from your skin and put the device safely back in its case.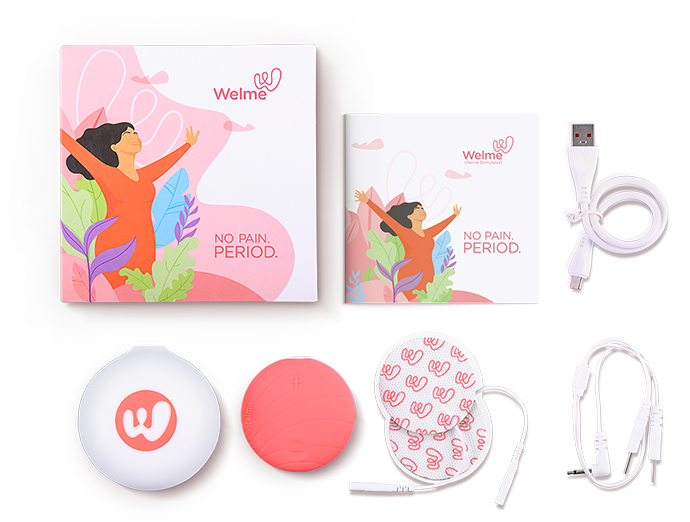 What's inside the box?
Welme Nerve Stimulator Device
Electrode Patches Cable
2 Electrode Patches Set
Welme Nerve Stimulator Storage product Case/Cable
USB Charging Cable
User Manual
Breaking stigmas. Making news.
Wearable. Comfortable. Fashionable.
Love from Welme users
Prachi Mehta
|
17 May, 2023
|
My brother bought it for me without consulting me. I wasn't so sure about it initially, as there's a high probability such claims are false. But I'm so glad I wasn't right! The massage I get at the major pain areas is too good. Mainly, I'm happy I don't have to ingest painkillers anymore.
Amit Khosla
|
17 May, 2023
|
Ordered this product for wife as she had too many menstrual cramps during her periods. Must say the product is really amazing and it's subsidise the pain and cramps so well that one don't need to have any painkiller..
Shreyosee Chatterjee
|
17 May, 2023
|
ITS EASY TO USE. EASY TO CARRY AND ACTUALLY GETS YOU RELIEF FROM PAIN!! THIS IS TRULY TRULY A LIFESAVER AND EVERY PENNY YOU SPEND ON IT IS WORTH IT. OHMYGOD. I HAVE HAD SUCH HORRIBLE PERIODS ALWAYS AND NOW I COULD JUST BE MY NORMAL SELF THANKS TO WELME!!!!!
|
A miraculous device. I struggle with severe cramps and Welme has provided an easy and effective solution. It's easy to carry places and comes with a box to keep it in.
Kanika Sehgal
|
20 Mar, 2023
|
It's works like magic, every month I have a fear when my periods came and it's the toughest time for me because pain get worse which result in vomit but after using welme I m totally normal thanks alot welme team for creating this product, love you team
SHAHINA SIDDIQUI
|
20 Mar, 2023
|
Alright so before purchasing this I was a bit skeptical obviously as it was my first time to use such a product, but now after using it for two months I'm glad that it really works, as taking painkillers and hot water bags everytime was very hectic for me, I was finally able to tackle and was relieved from my horrible crushing cramps during the first two days the best part is that I can wear this anytime, anywhere nd I actually did it while travelling, in college, etc., it's so small that u can even carry in a bag.
Thank you so much Welme 🌸
|
Dfntly a game changer… my periods almost made me cryout loud in pain… painkillers being popped for the next 2 days and with some
Hot water bag…. But this device has brought down my pain level to the extent where i dont really need to depend upon painkillers… thank you welme… i wish i knew about this before.
|
Really good product and good service as well
Great alternative of meds we use to take really helpful
|
The customer service is really good.
darshijariwala23
|
07 Jan, 2023
|
works well in reducing period pain
|
I have severe dysmenorrhoea, it has made my Periods very manageable and has reduced my pain to a great extent
|
I have severe dysmenorrhoea, it has made my periods very much manageable
|
Good product... effective for working women having immense cramps.
|
I used this product for my daughter and it works wonders just in few minutes the pain was reduced , The best part of this product is that it was can used even on normal days.
|
I am using it for my daughter and it works wonders, Within 10 min she felt the pain was reduced , the best part of this product is we can use it even when we don't have periods.
|
Was awesome ❤️❤️❤️thnks welme for this great product..❤️❤️❤️
Kritika Singh
|
10 Oct, 2022
|
My mom has endometriosis. She suffers alot of unbearable period cramps. I was searching for a solution and got to know abt this machine. I gifted it on her birthday. She used it and amazingly her period cramps gone within 15 mins of uses. Thank u so much welme
|
I started using welme just few months back and can't thank them enough.During my periods first 2 days were difficult for me I had to take off from school.But after using welme everything is so easy.Am able to attend my classes with no pain
|
I want to thank welme . During my periods first two days used to be so difficult for me . I had to take off from school coz of pain. Welme has made everything so easy now am able to attend my classes with no pain .Thank you so much
|
The device is a lifesaver and the packing is soo cute and aesthetic everything is very hygienic. My cramps are the worst, leaving me not even able to walk around but the device helps me a lot and the pain goes away. It's easy to use.
jayzala1vadiya
|
29 Sep, 2022
|
It was amazing product.
I was bought it for my wife and result was amazing. She got relieved in few minutes, very useful device.
Thank you welme...❤️
jayzala1vadiya
|
29 Sep, 2022
|
It was amazing product.
I was bought it for my wife and result was amazing. She got relieved in few minutes.
Thank you welme...❤️
|
I was scrolling through my Instagram page when I came across the ad of this device... I was excited to see that there's something which can actually relieve periods pain and I thought of suggesting my best friend but the next moment thought of gifting her the same...but I was confused whether it'll actually work or not....but to my surprise when it arrived and she used....it actually worked...and I was amazed. It truly relieves period pain and can be used again and again whenever the pain shoots.... moreover it can also be used for different intensity of pain and it's easy to wear and reusable....a perfect and a great device for period pain relief....Thank you for such a great device.
aartichaudhary816
|
28 Sep, 2022
|
It is a life saver for me during the period .... Its is a very useful product 🙂
aartichaudhary816
|
28 Sep, 2022
|
It is a life saver for me during the period...very useful product
|
Good product easy to use. Handy only after couple of days.
Purchased for mom.
|
Effective during later days as such. Good product .easy to use.
Alisha Ahmad
|
23 Sep, 2022
|
Bought it for my Sister and the purpose was served she got relieved in few minutes , very handy device as well it is very useful too . 👍
A USEFUL GIFT 🎁 FOR MY SIS
Snehal Kadbhane
|
21 Sep, 2022
|
The product is really good for extreme pain. It helped me a lot..
|
...Its an awesome device💕 ... M bohat saalo se pain killer le rhi thi... Since my teenage... Ek din achnk mne welme k breme dekha net pe .. order kia use kia... Bot effective device h .. mujhe lga ni tha ki ye itni jyda effective hogi... M ise 3 months se use kr ri hu... Mujhe bot achi lgi ye
|
Its an awesome device.. m bohat saalo se pain killer le rhi thi... Since my teen age... Ek din achnk mne welme k breme net pr dekha... Order kia use kia... Bot achi device h... Mujhe ni lga tha ki ye itni effective hogi.... I love it... 😘
|
WelMe.. It's been a blessing for the painful period cramps.. No medicines no pain still a satisfactory way to handle that day..
|
I was not finding easy to put everything in box given. The rest device is good and makes period pain go. I am able to do more work makes me feel better to work.
|
I was a bit sacred to use it but it is safe. I think all women who have painful menses should have this product.
|
Period pain gone after few mins of using this Welme. Awesome product. Must use
|
Period pain gone after few mins of using this Welme.
|
Comfortable and handy
Bought it for my sister
Great product !
Bhavika jani
|
04 Jul, 2022
|
Loved the product! Thanks welme..
Milind patel
|
04 Jul, 2022
|
Very comfortable! Bought it for my wife and she is very happy
|
Feels like massage. Handy device... so happy that my period days will be normal days now!
|
Feels like massage. Handy device.
Rishika lakhani
|
04 Jul, 2022
|
I like using this for stomach pain in periods. Higher intensity works for me.
|
This device is super. I encourage all women to give it a try
|
Welme is a great product and boon for women suffering from extreme cramps. This tiny, portable device is easy to use and provides relief within 15 minutes. It's a must buy for women and experience a painless period.
Himali Zaveri
|
20 Jun, 2022
|
I had a good experience using Welme.
Himali Zaveri
|
20 Jun, 2022
|
Good Product for us women
|
I have been skeptical about using period pain relievers . Welme has changed that for me. It is effective and very easy to carry around. This has changed the way I work when I am on my period.
|
This product is a savior. It totally makes me forget that I am on my 2nd day.
Shefali jain
|
18 Apr, 2022
|
For all my life since I've started getting my periods I've always always been in immense pain. My family would always be on their toes to make me feel comfortable and do anything to stop me from crying and howling, but no amount of care or pain killers could ever subside my pain!
When I got to know about welme I thought this might help me to a small extent to reduce the pain, but this device is magic and the ones who've introduced are angels in my life!
Welme has given me instant relief from the worst cramps and also my cramps have drastically decreased in just one single days use. It's user friendly and so compact and hassle free that it could be carried anywhere.
For all those who are in pain this is the best thing that you could gift yourself for your period cramps. It's a must have for every women.
|
Welme my lifesaver during those 7-days.
It's so compact that it gets hidden under clothes and travel-friendly.
I don't even feel my period cramps anymore.
Bibha Ranjan
|
10 Apr, 2022
|
Welme is probably the best investment I have ever made for myself.
Now I can truly relax during my period! The best thing is I can use it anywhere.
|
For a major part of my adult life, I have had tremendous period pains that don't let me do anything. It was hard to focus on anything at the onset of the periods. Using this device has allowed me to overcome this pain and to go through the day without any trouble. All the uncomfortable feelings leave my body when I apply Welme. This has allowed me to focus on my work and daily routine rather than being useless for the most part.
Parul Sharma
|
08 Apr, 2022
|
It really does stop period pain immediately. Welme is definitely a blessing for someone who pops ibuprofen and paracetamol during their period cycle.This small, portable device really works wonders on cramps. It is so easy to use and carry. Definitely my go-to for curbing period pain.
Twara Maheshwari
|
08 Apr, 2022
|
I am utterly grateful to Welme after purchase. It is easy to use and all I have to do is apply the patches and BOOM - no more pain. It has helped me when I travel - the portability of this pain reliever has made it possible to enjoy without being on the bed at all times.
It has worked wonders for me and for all my close friends who have used it.
Rutva Keswani
|
06 Apr, 2022
|
If you're suffering from terrible period pain like me, use this. It is incredibly straightforward and easy to use. The pain subsides in about 20 minutes which means that you do not have to carry it around everywhere or sleep with it. Also, it's available at an affordable price. Definitely a monthly staple for me.
Vineeta Khanna
|
05 Apr, 2022
|
I faced a lot of cramps during the menstrual period and no hot water bag or painkillers worked. Thanks to Welme's best period cramp machine which gave me instant relief!
Ritika Verma
|
02 Apr, 2022
|
I am grateful for this easy-to-use period cramp machine which is a savior during the tough time of the month. Now, I can smoothly do my chores without any menstrual cramps! I highly recommend it to all women out there.
Mansi Maniyar
|
30 Mar, 2022
|
Being a mom, you know that your life revolves around your child. Being a mom to a girl child, in particular, is a greater responsibility as the girl grows from a child to an adolescent. My daughter's teenage years were just horrible due to dysmenorrhea, aka menstrual pain. While her other female classmates used to actively participate in sports, my daughter used to suffer in pain at home. This ached my heart! But we saw a great ray of hope when we came across the Welme menstrual pain relief device.
I always wanted to ensure that my daughter got relief from menstrual pain, but in a healthy way. And with Welme, I found that! This product is scientifically proven.It has no harmful chemicals and gives rapid relief. It is so comfortable that my daughter does all her physical exercises even during her periods. It is also worth the price and it has a lifeline of five years. It is absolutely user-friendly as it is portable and battery charging is also very easy. When I see my girl cheerful and active during her menstrual days, my happiness knows no bounds!
Navlika Parihar
|
27 Mar, 2022
|
For years on, I cursed my "female" gender! That monthly pain was just unbearable for me and I literally stopped functioning every 3 days of the month. Endometriosis gave me terrible pain and made me nauseous; I was on the verge of passing out. I tried everything possible, ranging from prescribed allopathic medicines, ayurveda and homeopathy, but nothing relieved me from this pain. Welme period cramp relief device came into my life as a savior literally! First of all, it is extremely comfortable to wear since it is very light in weight and it can stay patched in. My pain relievers simply stopped and thereby, their side effects. I experienced that my menstrual days are no different from the rest of my days. Wearing this device has absolutely no side-effects, and that was the most important criterion for me. I am using this every month, and I would highly recommend this to all those beautiful souls who are yet to find a healthy solution to their menstrual cramps!